I have always wanted to be a foster carer. My grandad was an orphan and spent his whole life in a children's home. He never knew what it was like to have the love of a family. He always used to feel that no one wanted boys, especially as they got older. He thought they were just seen as trouble to others. I am one of seven children so have a big family with lots of love and have found it hard to understand the loneliness he must have felt. I always told him "Don't worry grandad. When I grow up, I will look after children and, their age and whether they are boys or not will not matter."
As is often the way, life took over until one day COVID-19 hit. I was made redundant, and it felt like the perfect time to do something that I had always wanted to do. Although change is scary, it was also very exciting. I Googled "how do I become a foster carer?" and FosterCare UK came up in the results, so I gave them a call. We then went through the process of checks and training which took just under four months. We had to attend a panel meeting to find out if we could continue and I'm happy to say, we were approved as foster carers.
We now have two young men aged 16 and 17 and as you can probably imagine, we have our good days and our bad days.
It is challenging but also so rewarding to watch a young person grow, develop and build in confidence over time.
We took the boys on holiday recently and it was amazing to see how happy they were; to see them play like children, to watch them eat their first steak and to learn to behave like gentlemen. To see them hug a palm tree when they had only ever seen plastic ones before and to order their own food from menus and try new dishes. It was so rewarding knowing that we could give them these joyous moments in their life. I printed off an album of photos so that they would always be able to look back at these fantastic memories.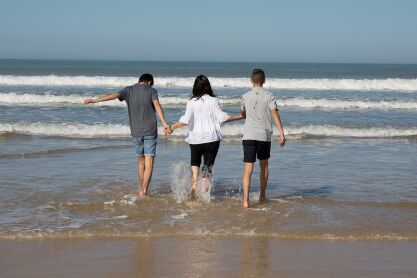 For us it's about teaching them life skills. I'm letting them know that hard work has its rewards. There have been so many fantastic moments along the way on this journey.
To anyone thinking of becoming a foster carer, we would say…
…go for it! It is life changing and not just for the children we care for.